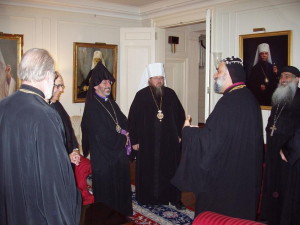 On August 13, 2009, a delegation of Oriental Orthodox bishops and priests visited His Beatitude, Metropolitan Jonah at the OCA Chancery here.
The delegation, which was led by His Eminence, Archbishop Khajag Barsamian, Primate of the Eastern Diocese of the Armenian Church of America, included His Eminence Archbishop Mor Cyril Aphrem Karim, Prelate of the Syriac Orthodox Church in the United States. The Very Rev. David Bebawy represented the Coptic Orthodox Church.
The delegation visited Saint Sergius Chapel at the Chancery, where they were offered a brief history of the OCA Chancery. After a meaningful discussion on different issues of mutual interest, Metropolitan Jonah hosted a luncheon for the delegation, during which the visiting hierarchs expressed gratitude for their visit.
Metropolitan Jonah also was invited to be a guest of Archbishop Khajag Barsamian at the Armenian Diocesan Headquarters in New York in early September.

source: http://www.oca.org/news/1909