This has nothing to do with Orthodoxy, religion, or anything else that is usually posted on this site. And thankfully it has nothing to do with the election. It is nothing more than bragging about the school I graduated from. Culver Academy which has made ESPN.
Culver in position to make statement
For three months a year, a tiny Indiana town called Culver is buzzing.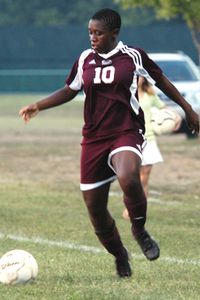 Jan Garrison/Culver Academy
Dineo Mmutla left South Africa in August and is now the team's third-leading scorer.
Located 100 miles north of Indianapolis and 100 miles southeast of Chicago, Culver is invaded by vacationers from all over during the summer. The town is the home to the second-largest natural lake in Indiana, and New York Yankees owner George Steinbrenner, Indianapolis Colts owner Robert Irsay and countless other families have made this their summer getaway for years.
But once Labor Day hits and all the weekenders pull their boats from Lake Maxinkuckee and some of the locals migrate south for the winter, Culver tends to hibernate for the next nine months.
This fall, however, has been a different story for the town of 1,200 year-round residents.
You see, Culver is home to one of the nation's premier college-prep schools -- the Culver Academy. Founded by Henry Harrison Culver, whom the town is named after, the school's enrollment is more than half the population of Culver.
And come Saturday in Indianapolis, everyone will be talking about Culver when the Culver Academy girls' soccer team takes the field for its Final Four state showdown with Fort Wayne. The Eagles (17-0-3), who are making their first state semifinal appearance since the school opened in 1894, are trying to become the first team in the school's history to win a state title.
"I don't think many people even know there is a town called Culver," Culver coach Harry Canellakis said.
Chances are it is the only place where Steinbrenner, a 1948 graduate, can disappear without having the New York media find him. All four of his children and grandchildren graduated from the school, and the performing arts center for dance and theater programs is named after the Steinbrenner family.
"For the past couple of weeks, there have been people that have been asking me who we are and where we're from," Canellakis added.
Of the 795 students who attend the $24,500-a-year school, 333 are girls. More than 25 percent of the school is composed of students from other countries.
One of those international students, Dineo Mmutla (South Africa), is the soccer team's third-leading scorer. The sophomore midfielder has 14 goals and 10 assists. Her play, along with that of Jenna Iwaniec (16 goals, 14 assists) and Jasmine Soo (16 goals, eight assists), have keyed big postseason wins over well-known programs such as Penn and Lake Central.
"My dream was to go to school and play soccer overseas," said Mmutla, who moved to the U.S. in August. "Everything is really different here than what I'm used to, but everyone has welcomed and supported me since I've been here."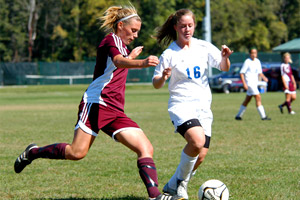 Jan Garrison/Culver Academy
Jenna Iwaniec is one of only a few Culver students who live in the town year-round.
Although Canellakis is quick to throw praise to his three offensive stars, referring to the Eagles' offense as its "best defense at times," the fourth-year head coach knows exactly why Culver is in this historic position.
"We're a very well-balanced team," said Canellakis, who lives in California in the summer and says 30 to 40 percent of his squad does not live in Indiana when school is not in session. "We have very dangerous forwards, and we have players in the midfield that can score, too."
In its six postseason games, Culver has allowed just one goal. This season, it has outscored 20 opponents 80-17.
"I moved to Culver from Indianapolis when I was a freshman, so I'm a local now," said Iwaniec, who is one of five seniors who live year-round in Culver. "What's cool about living in a small town is that word spreads fast. I have people coming up to me who I don't even know wishing us good luck this weekend."
After skipping last season to play hockey, Alicia Schaefer has held her own in goal this season. Maddie Balchan, Sam Hinsey and Deanna Dilts make up the back line in front of her.
"These kids are successful on and off the field, and that's one of the great things about this school," Canellakis said. "They are soccer players who are just as successful academically.
"It really is a great story."
And now more than just the locals know how great Culver is.
Joe Trost is a contributor to ESPNRISE.com.
source: http://sports.espn.go.com/highschool/rise/soccer/news/story?id=3671858